About Us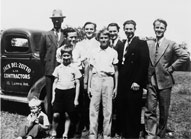 DelSuites provides quality furnished suites in superb residential communities within the Greater Toronto Area (GTA). DelSuites has developed a reputation for quality accommodations in prime locations and personalized service. Exclusively offering the highly regarded Tridel brand condominiums to its "Fortune 500″ clients, DelSuites has become one of the largest firms of their kind in the GTA. Professionally decorated and properly maintained, these condominium residences feature the Tridel lifestyle with top-of-the-line recreational facilities and extensive personalized convenient services.
DelSuites offers fully furnished and serviced condominiums in 20 locations throughout the Greater Toronto Area, including Downtown, Midtown, North York, Markham, Scarborough, Mississauga and Etobicoke.
Our Affiliate Companies
DelSuites gains strength and experience from our affiliate companies and their expertise in construction technology, residential property management, real estate brokerage, and residential energy management.